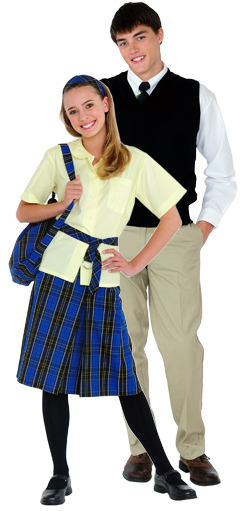 Believe it or not, uniforms aren't about uniformity. They're about individuality.
Dear Students,
Where is your focus? Is it on your heart, mind, character, and daily choices, or is it on your daily wardrobe?
Look Deeper
Perhaps you believe the idea of a school uniform is outdated and that wearing one will constrain the free expression of your individual identity. We challenge you to look deeper. You and your peers have true identities that are best expressed in your friendships, your talents, your achievements, and your dreams. We have experienced across the country that a deeper freedom and a truer expression of individuality is created for students in uniforms, while the freedom and individuality of students in street clothes is often shallow and short-lived.
Choose What's Best
Consider benefits to feel great about. School uniforms can:
Take the pressure off from wearing the "right" clothes
Make a safer atmosphere for students
Get rid of friction between diverse ethnic and socioeconomic groups
Give you more time in the morning to sleep in
Increase school spirit and community
Make people notice YOU, not your clothes
Let your family save money
Raise money for your school
Breathing new life into school uniforms
Educational Outfitters has you, the student, in mind. We have transformed our industry by introducing up-to-date styles and fabrics for our schools' uniform programs because we want you to feel great every day in the uniform you wear. And like you, Educational Outfitters seeks to have a multiplying impact on the lives we touch. Learn how we give back.
Check out some of our latest school uniform styles and spirit wear.